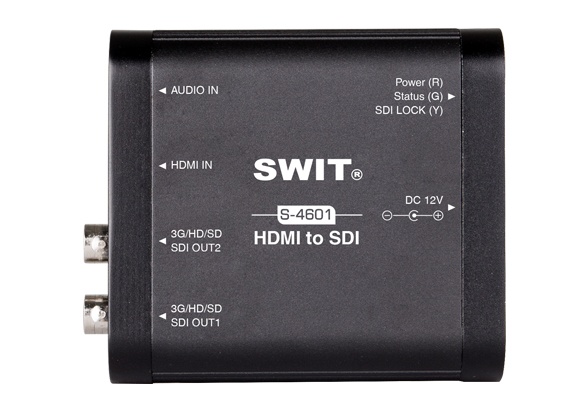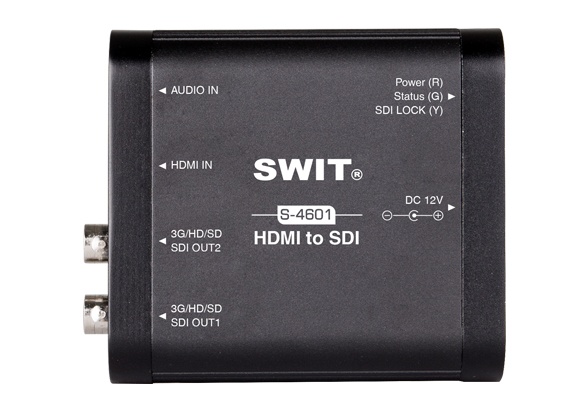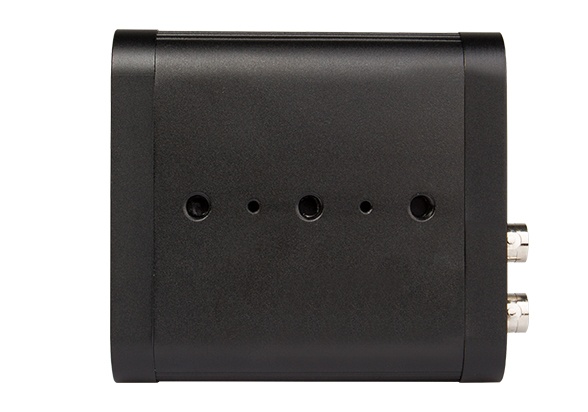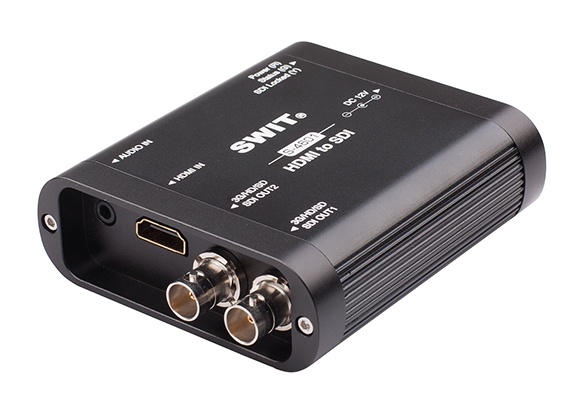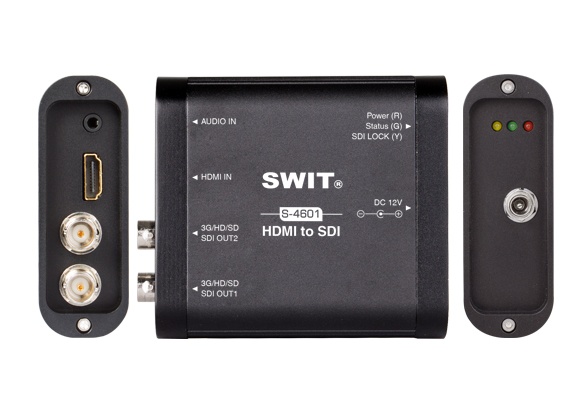 › Portable HDMI to 3G/HD/SD-SDI Converter
› 1 HDMI input, 2 SDI output, 1 analog audio input
› Embed HDMI audio into SDI output
› Embed Analog audio into SDI output
› Power/input/output status indicator
› Pole-tap 6-18V DC power input
› Heavy duty aluminium housing
› Bottom screw threads for installing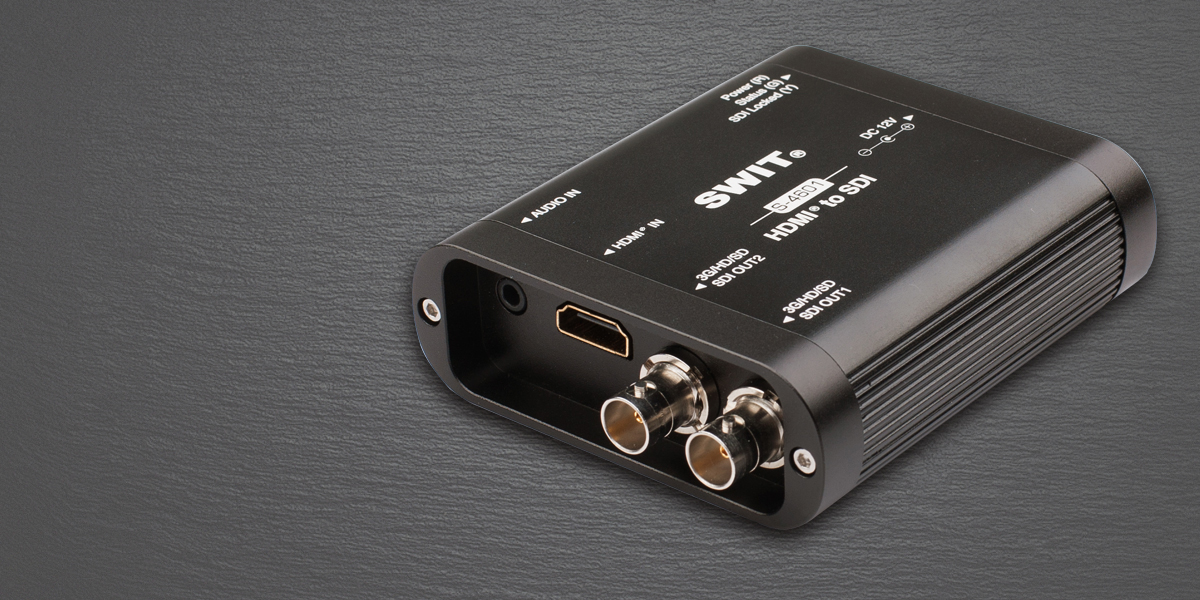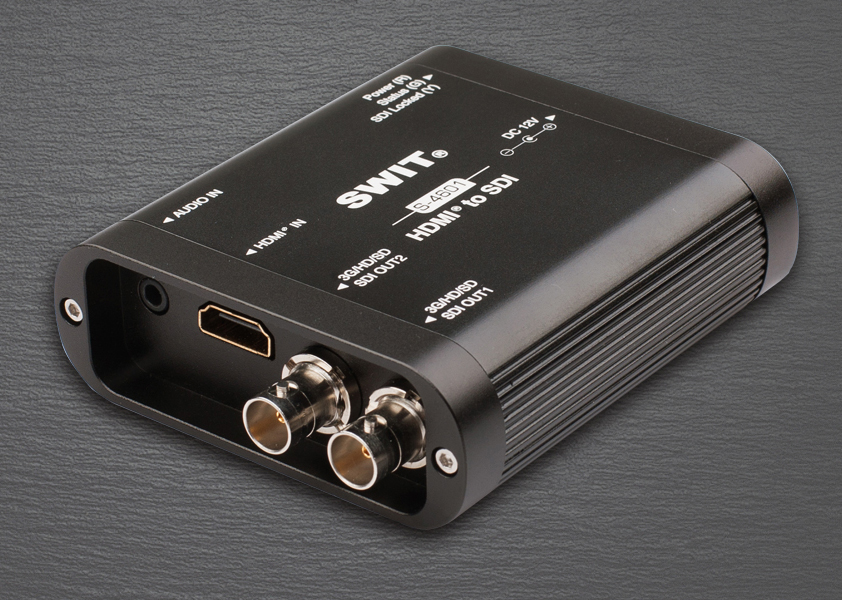 Portable Mini Converter
HDMI to SDI
S-4601 is a mini converter for HDMI to SDI conversion, widely used on broadcasting the HDMI video source, supports up to 1080p 50/60 HDMI converted to 3Gb/s SDI.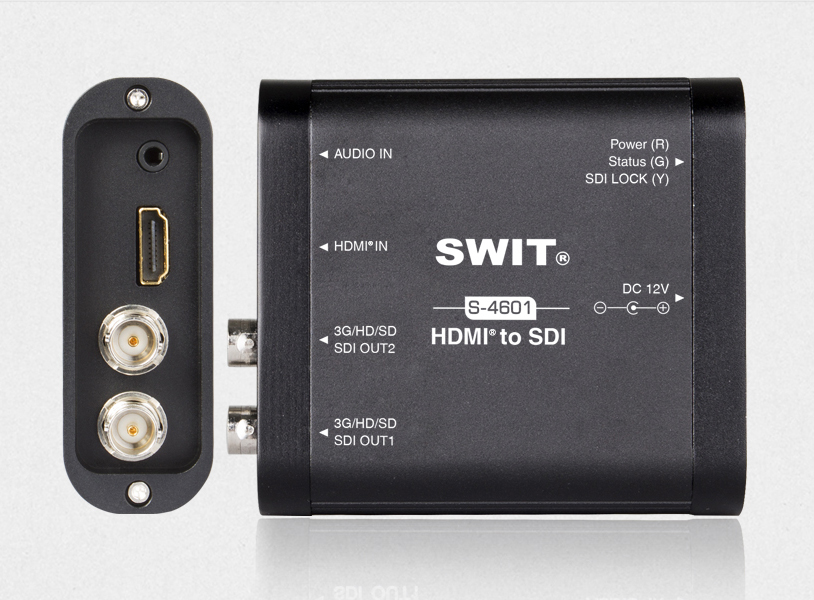 Input and Output
S-4601 offers:
1× HDMI Type-A input
2× 3G/HD/SD-SDI output (Reclocked)
1× 3.5mm audio input
(The HDMI to SDI supports the same format conversion only.)
S-4601 features low SDI jitter and SDI re-clocking so that you can use the longest SDI cable lengths and maintain pristine quality images.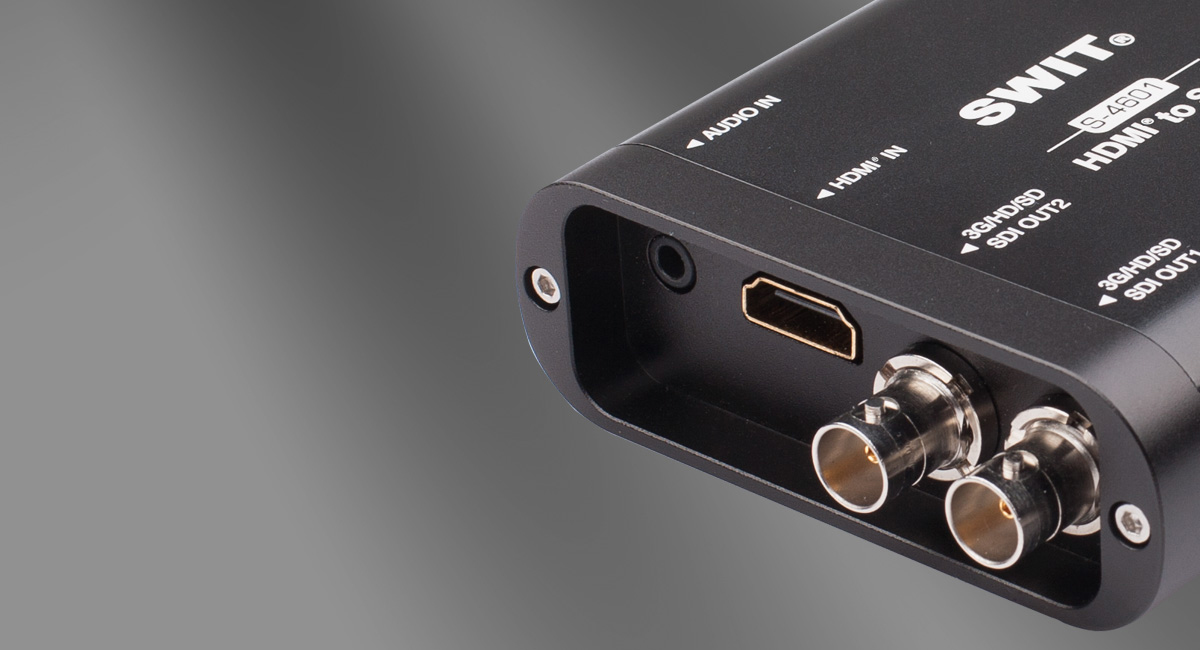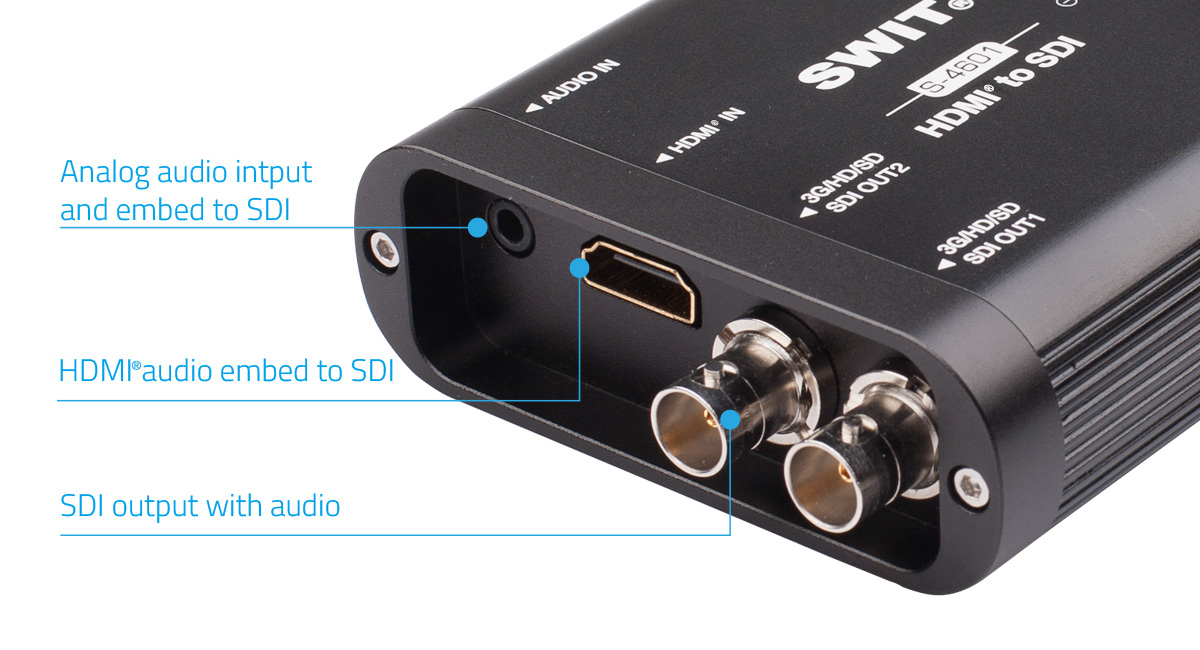 Embed HDMI/Analog audio into SDI output
The HDMI audio ch-1 & ch-2 can be embedded into SDI to output. And when there's analog audio input via 3.5mm socket, the stereo analog audio can be embedded into SDI to output. The audio supports 48kHz sample rate.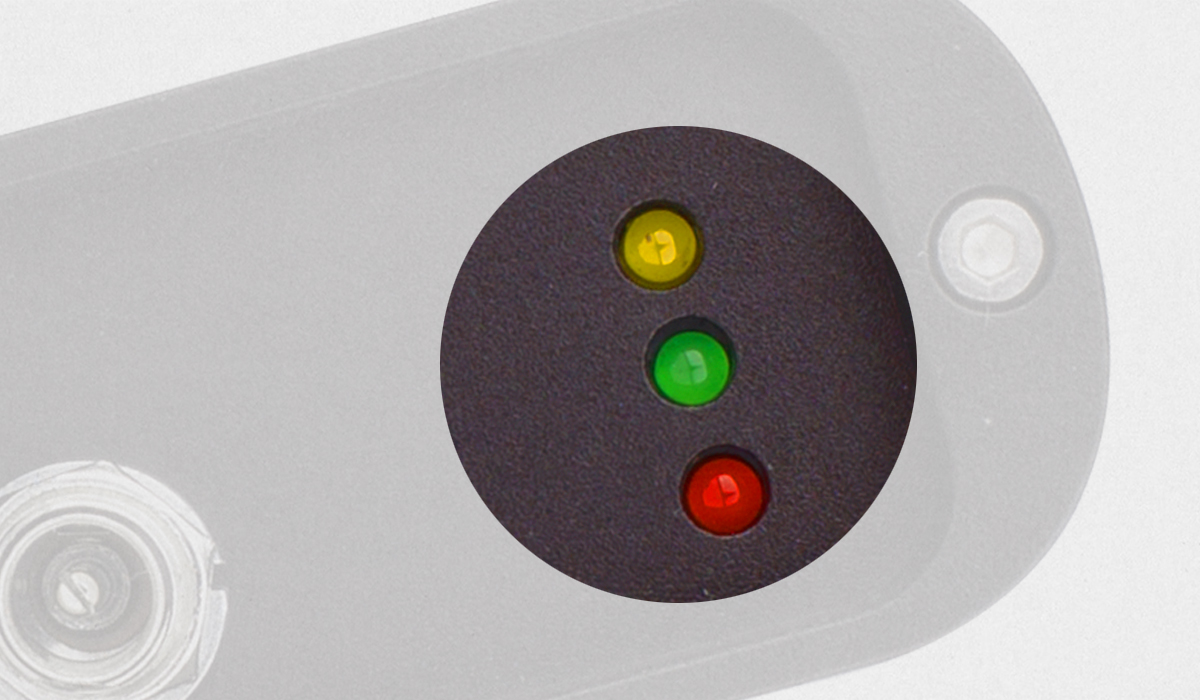 Status Indicators
Power / Input / Output
S-4601 provides 3 LED indictors, to check if the power is connected, and if the input/output signal is delivered.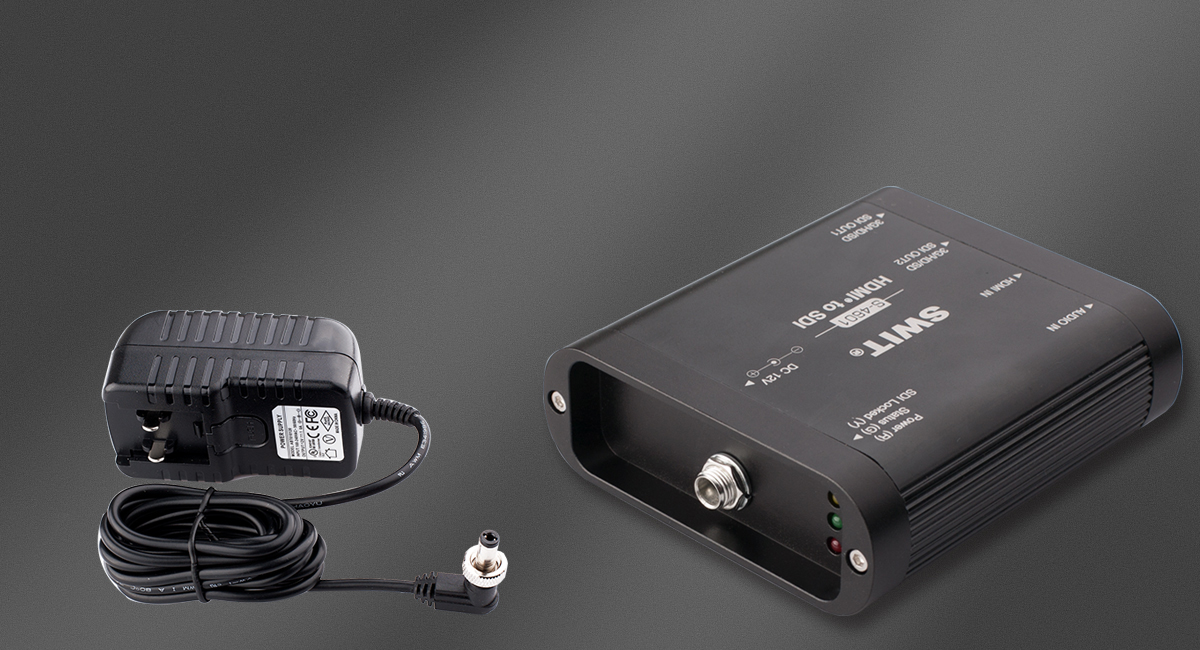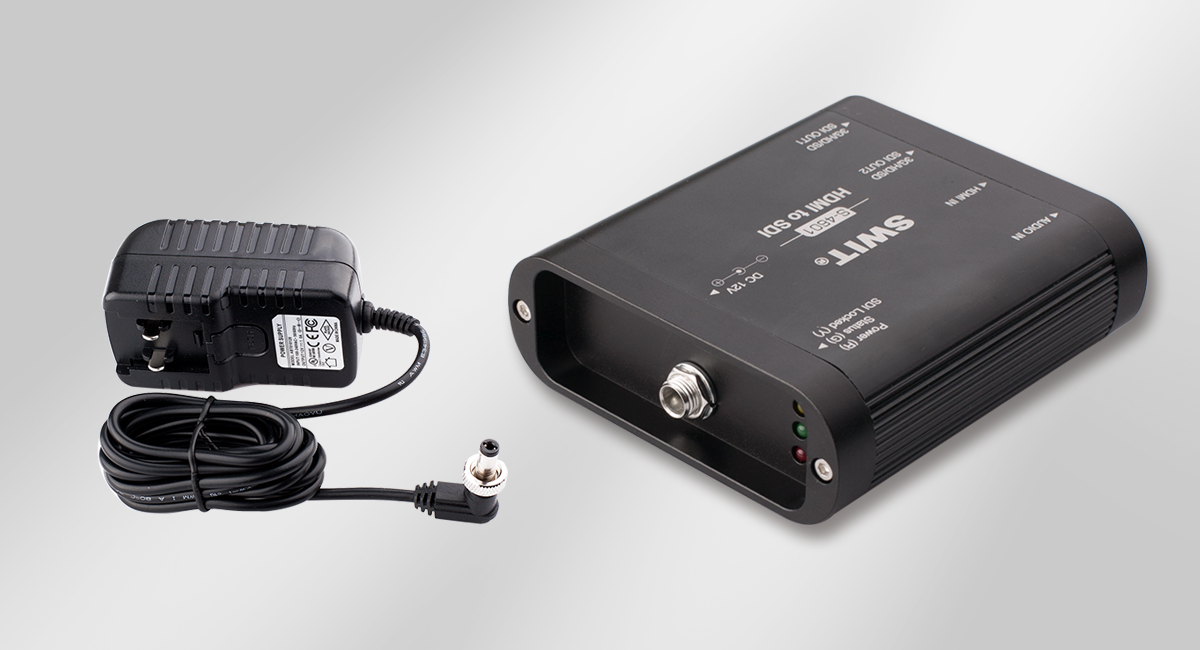 Power Supply
The mini converter is powered by pole-tap DC socket. The package includes an AC-DC power adaptor, and you can also connect DC cable from 6-18V batteries.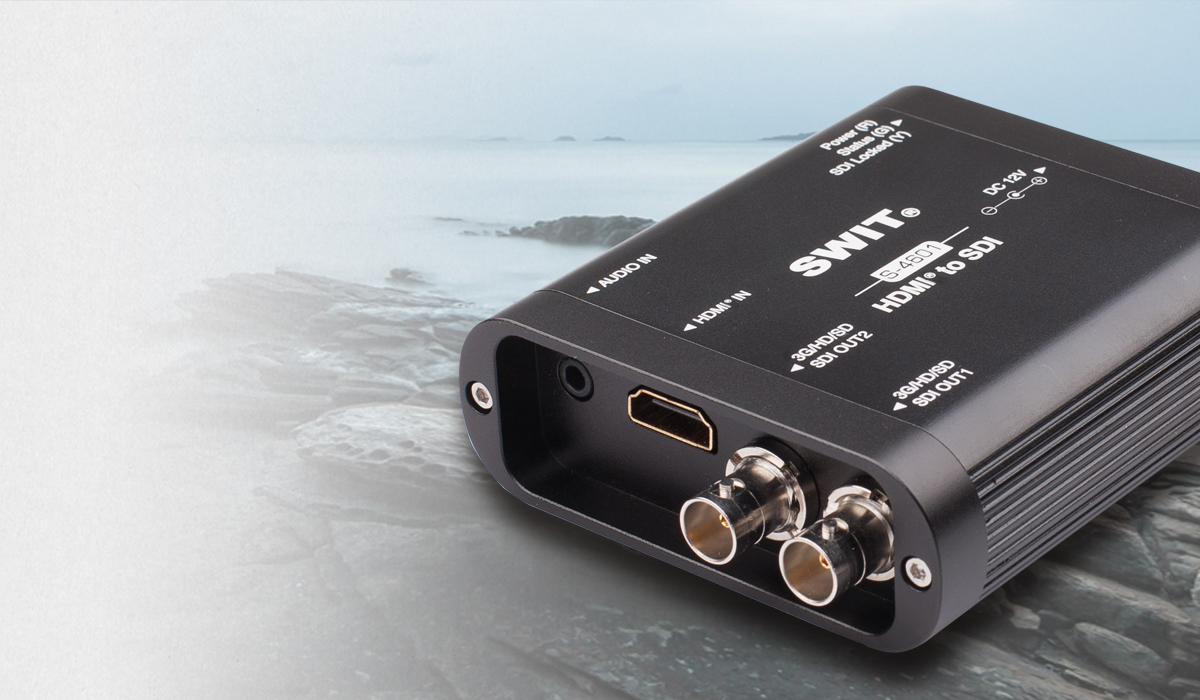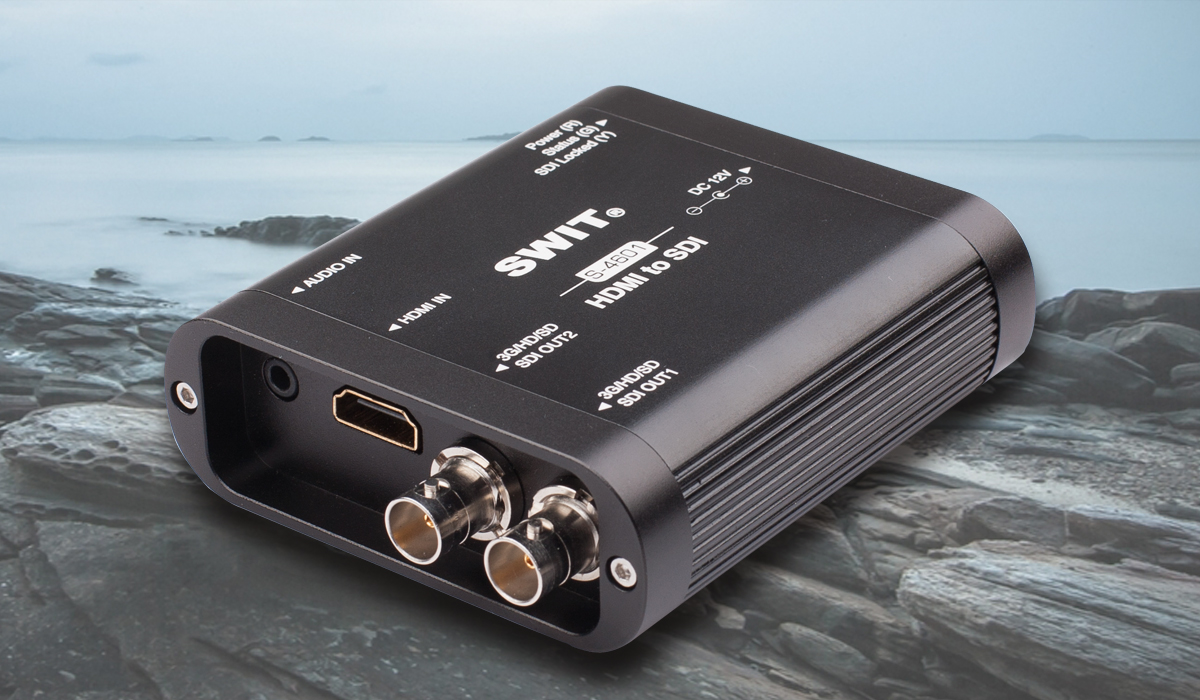 Heavy Duty Housing
The S-4601 mini converter adopts unibody aluminium alloy housing, strong for field using and protects the BNC connectors effectively.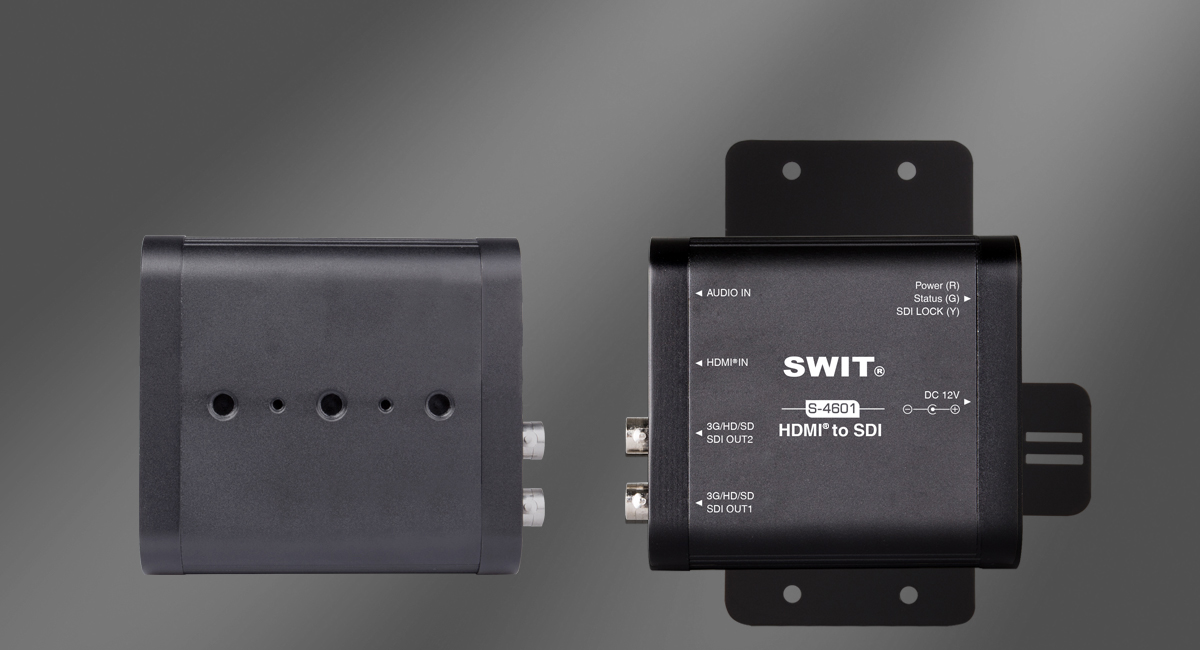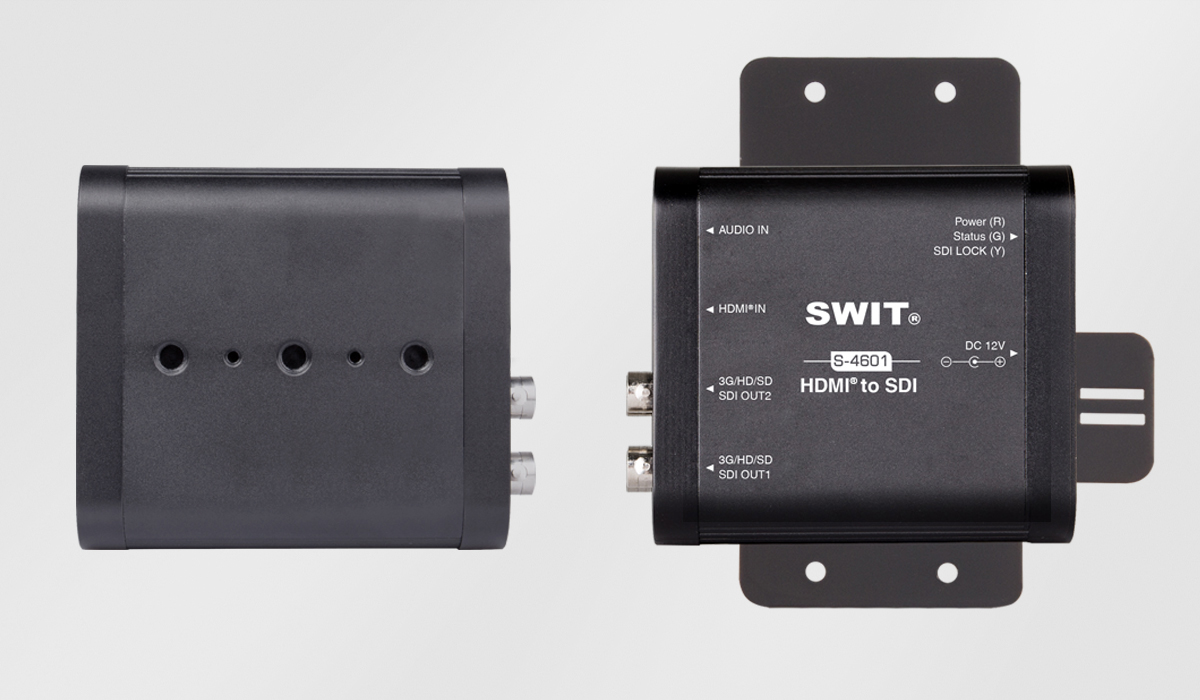 Installation
S-4601 provides the bottom 1/4-inch screw threads for fixing on cameras, and an installing plate is supplied in the package, for fixing on wall and binding the BNC/HDMI cables.

Input
| | |
| --- | --- |
| HDMI ×1 | HDMI input |
| 3.5mm×1 | Analog audio input |
Output
| | |
| --- | --- |
| BNC ×2 | Converted 3G/HD/SD-SDI output |
Video Format
SDI

1080p (60 / 59.94 / 50)

1080i (60 / 59.94 / 50)
1080p (30 / 29.97 / 25 / 24 / 23.98)
1080psf (30 / 29.97 / 25 / 24 / 23.98)
720p (60 / 59.94 / 50)
480i (59.94)
576i (50)

HDMI

1080p (60/ 59.94 / 50 / 30 / 29.97 / 25 / 24 / 23.98)
1080i (60 / 59.94 / 50)
720p (60 / 59.94 / 50)
480i / 576i

Audio

48KHz Sync
General
| | |
| --- | --- |
| Power | ≤3W |
| Working Voltage | DC 6-18V |
| Working Environment | Temperature: 0°C-+70°C, Humidity:10%-90% |
| Dimensions | 98×84×29 mm |
| Net weight | Net 210g; With package 0.5kg |